BABIES
Jon & Kate Tackle Marriage Rumors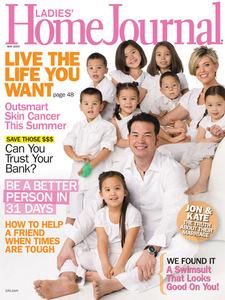 Questions about Jon and Kate Gosselin's relationship have been swirling, and now the TLC reality stars address rumor of infidelity in the May issue of Ladies' Home Journal.
"This struggle has definitely put some tension in our marriage," says Jon. "But I never cheated on Kate. Kate and I are together."
Kate laments the couples' lack of privacy: "The fact that we are recognized, screamed at, mobbed and so often approached when we're together does make life difficult."
Article continues below advertisement
It's certainly not the life that the father of eight imagined! "I always thought I'd be, like, 54 years old and marry a 19-year-old or something," Jon admits.
There are difficulties raising eight small children and airing out marital problems on TV, but the couple does not romanticize life pre-sextuplets. "I wouldn't return to those days," says Kate.
Season four of Jon & Kate Plus Eight ended with its highest ratings ever, but has left Jon questioning his future as a reality show star, saying, "I can't be Jon, I have to be Jon and Kate Plus 8, which is a really hard thing for me."
No worries for fans of the family show, however – despite his doubts, America's favorite reality show family will be back for another season.
By Lindsey Hunter Lopez