BABIES
Jon Voight: Angelina's Twins a "Big Deal"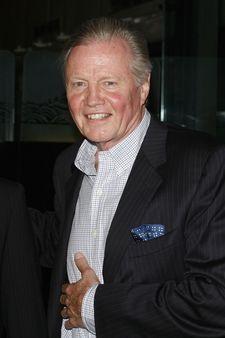 Jon Voight was a glowing grandpa as he promoted his new role as villain on Fox TV's 24.
Of Brad Pitt and Angelina Jolie's newborn twins, son Knox Leon and daughter Vivienne Marcheline--his grandchildren-- he says, "They're Brad and Angie's babies. There isn't anything more exciting than that. Of course my heart is with them and all my love goes to them. I was very excited."
Jon can't say how he found out the news, but the actor says he's got his bags packed just in case he has to head out of town any time soon.
Article continues below advertisement
"If they call me, I'm going to find a way, but I haven't got the call yet," he says.
Angelina recently admitted to Vanity Fair that she and her father had contacted each other after years of not speaking. She told the magazine in May, "We don't really have a relationship, but we're in contact. And wish each other well."
Jon, whose niece has twins, says the gene might run in the family.
"Angie's got a handful. She knows it, too. Twins are a big deal. Even if they're the world's most remarkable sleep oriented, calm children, two kids at the same time is a big deal," he says.