BABIES
Julianne Moore's Secret to a Happy Marriage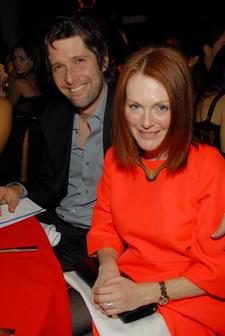 Julianne Moore has defied the odds in Hollywood. Eleven years later, she and her husband, director Bart Freundlich, 37, are still going strong. So what's the secret?
"We are happy," the stunning redhead told OK! at the Calvin Klein-hosted grand re-opening of New Museum in Manhattan. "I love him dearly and he loves me dearly."
Still, Julianne, who turned 47 on Monday, is not sure if there is a right answer. "I really don't know if anyone really knows what the secret is."
Article continues below advertisement
The two have been together since 1996 and made it official in 2003. Their union has produced two children thus far, son Caleb, who turned 10 on Tuesday, and daughter Liv, 5, whom the couple is never far from — especially not with the holidays coming up.
"We will be in New York City with the kids like we always are," Julianne says.
By Ravi Yande