BABIES
K-Fed's Atty Talks Jayden's Hospitalization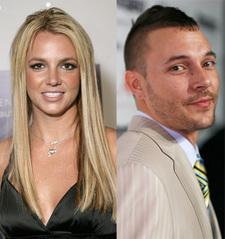 Kevin Federline's attorney, Mark Vincent Kaplan, is speaking out about the recent hospitalization of K-Fed's son Jayden James, including why Federline never made it out to Louisiana.
In an interview with E!, Kaplan says Jayden's illness appears to have been a "food allergy" but that Kevin plans to take his son to a local pediatrician as soon as he returns.
Article continues below advertisement
"I think whatever it is, a food allegery or some other case, we don't know yet," Kaplan said. "We're pleased that someone was aware enough to see that he was having some sort of reaction and do what was necessary to make sure there were no chances taken and got Jayden to the appropriate facility and got the appropriate evaluation to be timely."
Kaplan says that K-Fed has no plans to call a hearing to investigate what went wrong.
"When you have kids it would be impossible for there to be some theoretcial concept of negligence going on--a child falls down, anything that happens that way," Kaplan said. "We're not going to jump to conclusions right now...I don't anticipate there being a hearing. I anticipate that Kevin and Britney Spears as concerned parents will exchange information and satisfy themselves that what happened was a freak occurance and do what they have to do to make sure that it doesn't happen again."
Article continues below advertisement
When Jayden, 2, was first taken to the hospital, there were rumors that Britney couldn't reach Kevin. But Kaplan says the father of four was in the loop the entire time.
"Kevin was considering going to Louisiana, but the information that we had was Jayden was already checked out," he says. "When Kevin first learned about it he was planning on going out there the day after, but by the time that is came around, it appeared that there wasn't a need. There wasn't an emergency. He was willing to wait and see what happened when she Britney got back."