BABIES
K-Fed's Lawyer Stays Mum on Britney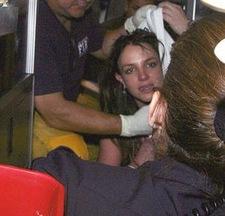 Following the crazy events of Britney Spears' Thursday night ( for the minute-by-minute details and video and for photos), the lawyer representing her ex-husband Kevin Federline in their ongoing custody battle rushed to L.A. Family Court this morning for an emergency hearing with Commissioner Scott Gordon.
But after the hearing let out, the lawyer, Mark Vincent Kaplan, who often speaks directly to the press following these hearings, chose to have an associate of his, Michael Sands, talk for him. And he wasn't saying much.
Article continues below advertisement
"Because of all the media inquiries, Mark feels at this time it would be inappropriate to speak," explained Sands, who would not confirm or deny any details of what happened in the courthouse.
Stay tuned to OK! as this story develops.