BABIES
Katie Holmes: Suri Sleeps Through the Night!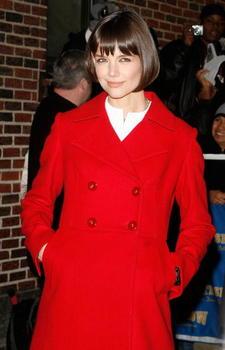 and hit the jackpot when it came to getting a good night's sleep as parents. While most tots wake their parents up at the crack of dawn, 20-month-old Suri likes to sleep in.
"She goes to sleep pretty late because we go to sleep late," Katie revealed on Monday's The Late Show With David Letterman. "She goes to sleep around 11 p.m. and wakes up about 9 a.m."
Suri doesn't always wake up by herself though. Wanting to spend every moment with her daughter, Katie, who called motherhood "magical," admitted to often cozying up to her snoozing baby during naps to "stare and kind of kiss her and see if maybe she'll wake up."
Article continues below advertisement
The 29-year-old Mad Money star has high hopes for her baby girl — in show business. Although many celebrity parents try to steer their offspring away from the entertainment industry, Katie is all for it.
"I'm excited. She's so smart. She's already talking a lot and you can see she's already a wonderful artist," she says. "And whatever she wants to do — if she wants to, great. If she doesn't, okay."
As for her own dreams, Katie fulfilled one of them in November when she ran in the New York City Marathon, as . Inspired by her father and brother, who competed in the Boston Marathon 15 years ago, the actress decided back in August to finally have a go at it herself
"I loved it. It was hard — very hard, but I loved seeing New York City that way," Katie, who listened to Kanye West's "Stronger" for the last six miles, says. "And Tom and Suri met me at mile 18 and I really wanted to get in the car at that moment. I really did. Luckily they pushed me through."
And though she has to participate in the Boston Marathon this spring, Katie assures that she's not hanging up her running shoes just yet. "I may try a different one."