BABIES
Keith & Nicole Talk About Baby Sunday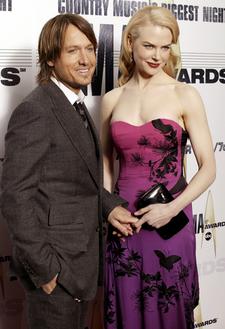 First-time parents Keith Urban and Nicole Kidman surprised a lot of Australian radio listeners today when they called in to a popular Sydney morning show to talk about their newborn baby girl Sunday Rose.
"She looks like Keith," Nicole told hosts Kyle and Jackie O of Breakfast With the Stars. "I think she does."
Her country superstar hubby wasn't quite so eager to agree with that, saying, "Well, she's a bit of a mix."
Article continues below advertisement
And while the audience couldn't get a glimpse of the baby girl, Nicole did say that "She's got a little bit of hair," with a "bit of a reddish tint."
The realities of parenthood are seeping in for the couple, who admit that Sunday is feeding every three hours, so they're not getting much beauty sleep. "But it's a solid three hours," joked Keith.
As for the delivery, Nicole says things went "very smoothly, surprisingly... We had wonderful nurses at the hospital."
The couple are in Sydney so baby Sunday can meet up with all her grandparents.
we brought her back to meet the grandparents. And while they're in town, they've made a public plea to the press to give them some space, "so we can walk around our town."
"I get the interest," said Keith, talking about the horde of cameras and reporters who are aching to get the first shots of Sunday. "But at the same time, it's our little girl... Would you do that to anybody else's child?"
Baby Sunday was born on July 7 in Nashville. The good news was announced by Keith on his personal website.