BABIES
Kelly Rutherford: Ready for Baby #2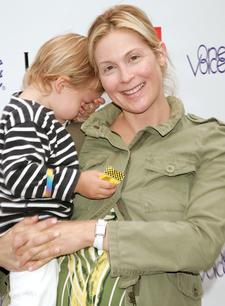 Kelly Rutherford somehow manages to look fabulous while escorting little son Hermes down the red carpet and talking to reporters, all while being only a week away from giving birth!
"I could go into labor at any moment!" the proud mom joked to reporters at the Third Annual Kidstock Music and Arts Festival in Beverly Hills on May 31.
Wait, really any moment?
"No, she's not due until next weekend," Kelly reassured everyone, adding that her son is excited to meet his sister.
Article continues below advertisement
And while Kelly could have gone for broke decorating the new baby girl's room, the eco-friendly mama has instead picked a sustainable attitude towards decorating.
"I'm kind of sustainable about the whole thing. I'm using a lot of the same things that I used with him, and it's so wonderful," she told OK!. "People have been so generous in giving things and I've just been trying to be, you know, smart about it. I mean, our changing table that I bought him Hermes is from Target. It's white changing table and I'm keeping it. It works!"
However Kelly has been able to indulge herself when it comes to buying baby clothes for a girl, admitting, "The girlie clothes are fun! My mom and I have been having a good time with that one!"