BABIES
Kendra's Fiancé: I've Held Her Hair While She Puked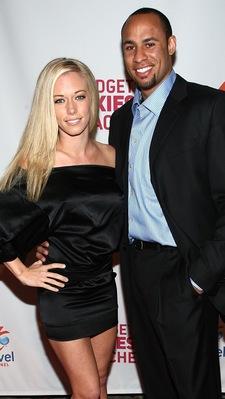 In a revealing new interview, dad-to-be and Kendra Wilkinson's fiancé, football star Hank Baskett, talks openly about everything from helping his better half through morning sickness to just how involved Hugh Hefner is going to be in their baby's life.
"She's going to be a great mom!" Hank tells E!'s Marc Malkin. "She's telling me what do about every little thing. She's reading, and I've seen more baby television shows since she got pregnant than I have in my entire life. She's studying up on everything, and that's why I have to keep my game up, to keep up with her because she's constantly testing me and asking me questions."
Article continues below advertisement
With regard to Kendra's morning sickness, Hank — who is frequently away because of training for the upcoming season — admits, "That's one of the hardest things, to be across the country while she's pregnant. I was like, 'Babe I wish I could be there to hold your hair.' I don't want her in any way shape or form to feel like she's doing this by herself... But there have been a few times that I've held her hair."
As for how involved the former Girl Next Door's boss and paramour Hugh Hefner will be in the baby's life, Hank reveals, "Hef will definitely be involved with the baby. Hef is a great man, and I know there is more to his and Kendra's relationship than people see and actually know. I see it every time they're together."
And is Hank, who says he ultimately wants to have three children, hoping for a boy or a girl with their first? "I want a boy," he says without hesitation. "Someone to look out for the baby girl coming next."