BABIES
Kidman: 'A Lake Helped Me Have A Baby'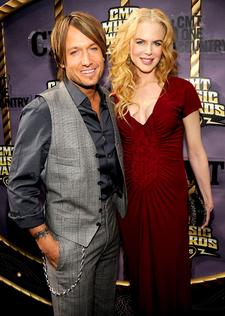 Maybe there really is something in the water -- at least, there was during the shoot for Nicole Kidman's new movie.
The Oscar winner has revealed that she (and six other women working on the project!) got pregnant during the shoot -- after swimming in a 'fertility pool'.
Nicole said she didn't think she and musician husband Keith Urban would ever be able to have a baby.
But the Moulin Rouge star conceived after taking a dip in the pool outside of a small town in the Australian Outback while making Baz Luhrmann's epic romance, Australia.
Article continues below advertisement
The 41-year-old star, who gave birth to Sunday Rose in July, told the Australian Women's Weekly: "I never thought that I would get pregnant and give birth to a child, but it happened on this movie.
"Seven babies were conceived out of this film and only one was a boy.
"There is something up there in the Kununurra water because we all went swimming in the waterfalls, so we can call it the fertility waters now."
OK -- we're not doubting Nicole's theory for a minute. But seven pregnancies on one movie shoot?
Might that have more to do with the fact that an entire film crew were camped way out in the wilderness together than what kind of water was in the local lake?