BABIES
Levi's All Organic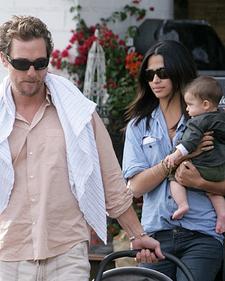 If the next generation are going to save the world, you've got to start them young!
Matthew McConaughey and girlfriend Camila Alves are known for their eco-friendly lifestyle -- and they're making sure their son, Levi, follows in their carbon-friendly footsteps.
The Fool's Gold star, 39, and his model girlfriend, 25, have put 7-month-old Levi on an all-organic diet, stocking up on the Plum Organics line of baby food.
Article continues below advertisement
Sources tell OK! that Levi already has his favorites, particularly the Mango Muesli and Pumpkin Banana.
"Camila is more conscious than ever of what she's putting in her body to help her lose the baby weight," a pal of Matt and his gal of two years explains to OK!.
"Now, the only thing not organic in their fridge is Matt's beer!"
Of course, little Levi has been an eco-baby right from day one. Matthew memorably said that he was going to plant the placenta in an orchard.
Either that kid is going to be a green guru, or he's going to be an SUV dealer who drills for oil on his days off.