BABIES
Lisa Marie Presley Sues Over 'Fat' Story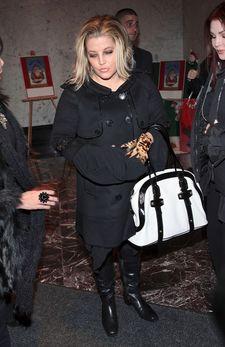 Don't mess with a pregnant woman — especially when it's Lisa Marie Presley!
The princess of rock and roll has filed a lawsuit in London's High Court against Britain's Daily Mail in response to a story it ran alleging that Presley's ballooning weight was the result of overeating.
On Friday, Presley, 40, said she was as a result of the paper's story, which she called slanderous and degrading. The Daily Mail has since reported Presley's pregnancy.
Article continues below advertisement
''Once they got a glimpse of my expanding physique a few days ago, they have been like a pack of coyotes circling their prey whilst eerily howling with delight,'' she said on her blog.
The daughter of the late Elvis Presley claims pictures taken of her and fourth husband Michael Lockwood at a L.A. restaurant last week forced her to go public with her pregnancy. "It really upset her," Presley's attorney Jo Paton told the A.P. "She was about to announce her pregnancy and was shocked and hurt by the unkind article about her appearance."
Lisa Marie is also reportedly seeking an apology and damages from the British newspaper. The Daily Mail said they didn't know anything about her intended lawsuit until they were served with court papers. "We are investigating the matter," the paper said in a statement.
Lisa Marie is expecting her third child. She already has two children from her first marriage to musician Danny Keough, which ended in 1994. She was also briefly married to Michael Jackson and actor Nicolas Cage. Presley married Lockwood in January 2006.