BABIES
Madonna Confirms Adoption Attempt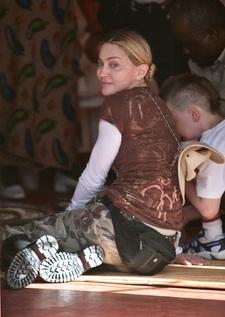 Though it's been confirmed by everyone else under the sun, Madonna herself had yet to say anything publicly about her ongoing attempt to adopt another child from the African nation of Malawi — until now.
In a statement released Tuesday morning through her rep, the Material Girl confirms she is going through the process of adopting 4-year-old girl Chifundo "Mercy" James, and explains why she is once again looking to adopt in Malawi, the country where she adopted her 3-year-old son David.
Article continues below advertisement
''Madonna is committed to maintaining an ongoing relationship with David's Malawian roots,'' reads the statement. Madge also said her adopted son will be visiting his biological father, Yohane Banda, during their visit to Malawi.
As reported yesterday, Madonna must wait until at least Friday before her next hearing in the adoption case.
PHOTOS OF MADONNA & DAVID IN MALAWI:
<a href="http://www.okmagazine.com/pixandvids/gallery/12940/1" target="_blank"><img src="https://d-images.okmagazine.com/img/photos/large/24630.gif" width="74" height="100"/></a> <a href="http://www.okmagazine.com/pixandvids/gallery/12940/2" target="_blank"><img src="https://d-images.okmagazine.com/img/photos/large/24629.gif" width="74" height="100"/></a> <a href="http://www.okmagazine.com/pixandvids/gallery/12940/3" target="_blank"><img src="https://d-images.okmagazine.com/img/photos/large/24628.gif" width="74" height="100"/></a> <a href="http://www.okmagazine.com/pixandvids/gallery/12940/4" target="_blank"><img src="https://d-images.okmagazine.com/img/photos/large/24627.gif" width="74" height="100"/></a> <a href="http://www.okmagazine.com/pixandvids/gallery/12940/5" target="_blank"><img src="https://d-images.okmagazine.com/img/photos/large/24626.gif" width="74" height="100"/></a>
<a href="http://www.okmagazine.com/pixandvids/gallery/12940/6" target="_blank"><img src="https://d-images.okmagazine.com/img/photos/large/24625.gif" width="74" height="100"/></a> <a href="http://www.okmagazine.com/pixandvids/gallery/12940/7" target="_blank"><img src="https://d-images.okmagazine.com/img/photos/large/24621.gif" width="74" height="100"/></a> <a href="http://www.okmagazine.com/pixandvids/gallery/12940/8" target="_blank"><img src="https://d-images.okmagazine.com/img/photos/large/24620.gif" width="74" height="100"/></a>