BABIES
Madonna Files Adoption Papers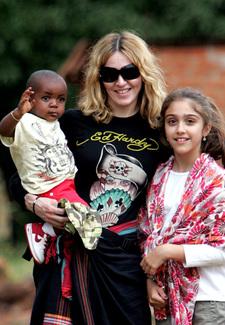 Despite the drawn-out controversy over son David Banda's adoption from Malawi in 2008, it seems Madonna is trying to adopt another child from the African country.
The Associated Press reports that officials at the Malawi welfare department say Madge filed adoption papers there. Another source reveals that the singer is arriving this weekend and that a court might be hearing her case on Monday.
A U.S. official has also confirmed the adoption attempt to the AP, but Madge's spokeswoman in NYC, Liz Rosenberg, declined to comment.
Article continues below advertisement
<a href="http://www.okmagazine.com/pixandvids/gallery/9458/5" target="_blank"><img src="https://d-images.okmagazine.com/img/photos/large/22016.gif" width="74" height="100"/></a>