BABIES
Madonna Pleads for Mercy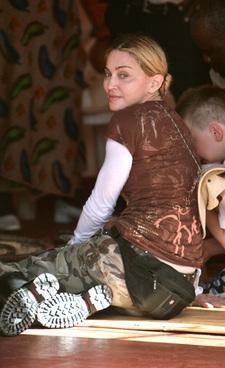 Though she was recently rejected by a Malawian high court in her bid to adopt a second child — a girl named Mercy James — from the African nation, Madonna has resorted to pleading her case in the press.
"I want to provide Mercy with a home, a loving family environment and the best education and healthcare possible," she's quoted as saying in the Nation on Sunday newspaper. The Material Girl also says that it's her hope that both Mercy and her other adopted child David "will one day return to Malawi and help the people of their country."
Article continues below advertisement
Madge even admits that she probably should be keeping her mouth shut, but feels compelled to speak out on the subject. "Though I have been advised that I cannot publicly discuss the pending appeal regarding my desire to adopt Mercy, I do want to say how much I appreciate the level of support that I have received from the people of Malawi and my friends around the world."
Madonna is currently awaiting a decision on her appeal to the Malawian Supreme Court on her bid to adopt Mercy.
PHOTOS OF MADONNA & FAMILY IN MALAWI: