BABIES
Malawi Court Approves Madonna Adoption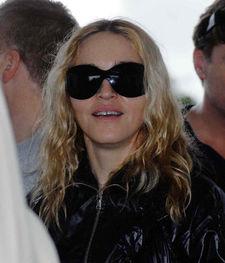 It's a happy day for Madonna, who was finally granted her wish by the Supreme Court of Malawi on Friday morning, allowing the pop superstar to move forward with her adoption of a 4-year-old girl Chifundo Mercy James from the African nation.
In his ruling, which overturns a lower court decision blocking Madge from adopting her second Malawian child, Chief Justice Lovemore Munlo writes, "We find the judge in the lower court to have dwelled so much on media reports on the issue of residence and to us this was not evidence enough to deny Madonna a chance to adopt Mercy James. We therefore grant Madonna the adoption order... Madonna has shown that she is bold, and compassionate enough to come forward to adopt Chifundo James."
Article continues below advertisement
Predictably, the pop star is pleased. "I've just talked to Madonna and she's very excited about this news," her lawyer Alan Chinula told Reuters.
In 2006, Madonna adopted then 1-year-old boy David Banda from Malawi and was accused of using her fame to get around residency rules governing adoption.