BABIES
Malawi Govt. Supports Madonna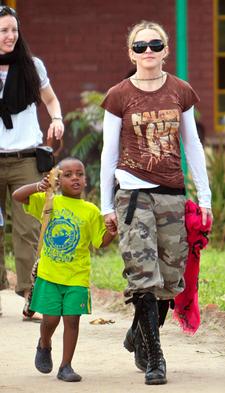 Madonna could be one very important step closer to fulfilling her dream of adopting a second child from Malawi – the country's government is throwing their support behind her, the information minister tells Reuters.
"Madonna has been good to us, she is supporting over 25,000 orphans in this country and she has proved that she can take care of David," says Malawian Information Minister Patricia Kaliati. "Very few rich and famous people can take time to fly all the way to Malawi to support our children. We support her adoption process."
Article continues below advertisement
The High Court is expected to make their decision in the case of Madonna adopting Mercy James tomorrow.
The pop icon's adoption of Malawian David Banda was at the center of controversy in 2006, when critics protested that she was able to get around the usually strict adoption regulations because of her fame.