BABIES
Matthew & Jen Talk Babies On Set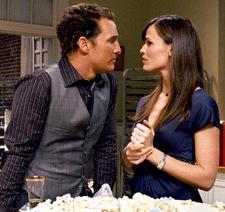 Being a working actor and parent in Hollywood can't be easy, so it's nice if your co-star has some tips for the less experienced. Matthew McConaughey says he benefited from Ghosts of Girlfriends Past co-star Jennifer Garner while they were on set.
"Watching her on set be a mother and be a professional actress and be a pro at both," he tells Entertainment Tonight. "From the outside it seemed like it was seamlessly effortless. It's not, but she made it look effortless."
Article continues below advertisement
OK!'s EXCLUSIVE MATTHEW, CAMILA AND LEVI PICS:
Speaking of effortless, Matthew says son Levi, with girlfriend Camila Alves, is already turning into a good little traveler.
"He's easy to take with us. He's been out of the country five times and already been on a long road trip."
And for co-star Jen, she's already back in her mothering groove with daughter #2, Seraphina, who joins toddler Violet. Hubby Ben Affleck, however, has some adjusting to do.
"She's great! She's really good," Jen tells ET of Seraphina, adding that having so many women in the house is an adjustment for Ben.
"There's a lot of estrogen but so far he's handled it pretty well!"
JEN AND VIOLET: