BABIES
Matthew McConaughey: Surfer Dude to Surfer Dad!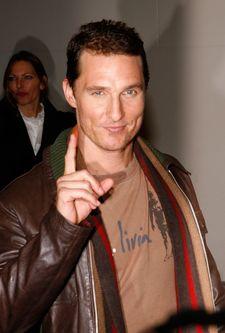 Soon-to-be new dad got a watery surprise on the set of his new movie, Ghosts of Girlfriends Past. The crew on the Boston movie set customized a surfboard just big enough for 38-year-old Matt's unborn mini-me.
"Matt's been the big jokester on set," an insider tells OK!. "Everyone loves having him around and wanted to get him a gag gift for the baby."
A few of the production assistants constructed a mini boogie board, throwing in fins, baby Uggs, wet suits and rash guards, all in baby sizes, for good measure. The set snitch says that Matt's favorite part of the baby bundle was a tiny bandanna. "He tried to put it on his wig and said it was 'for old time's sake!'"
MORE ON:
Matthew McConaughey
Article continues below advertisement