BABIES
Mel Gibson Confirms Baby Rumor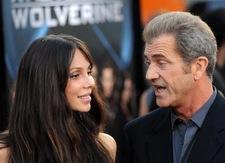 After several weeks of speculation, a rep for Mel Gibson has confirmed reports that the Oscar-winning actor and director is soon to be the father of another child — his first with recently revealed girlfriend Oksana Grigorieva.
The rumors had been circulating for weeks that Mel — already a father to seven children with not-quite-ex-wife Robyn — and Oksana, who has a son with former James Bond actor Timothy Dalton, were expecting, and it looks like the actor actually dropped the bombshell himself during a pre-taped interview for The Tonight Show with Jay Leno. "I guess I'm 'Octo-Mel!'" he joked.
Article continues below advertisement
In the interview, scheduled to air this week, Mel also gets candid about the recent end of his marriage of 28 years.
"My wife and I, our marriage ended three years ago, and we've been separated ever since then," he explains. "These things happen. It's unfortunate, it's sad, but you know she is an admirable woman... When it's all said and done, I did a pretty good hatchet job on my marriage myself. I'm to blame. If you're inclined to judge, put it here."