BABIES
Melissa Joan Hart Has a Baby Boy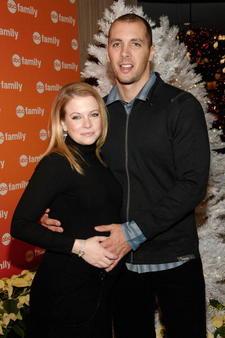 And a baby makes four for Melissa Joan Hart and Mark Wilkerson.
The actress and her rock star husband welcomed their second child together on March 12, a boy named Braydon Hart Wilkerson.
Their son Mason is two years old.
Although the couple had planned on having another baby, Braydon came a little sooner than imagined and the 31-year-old former Sabrina, the Teenage Witch star admitted she wasn't completely excited when she learned of her pregnancy at first.
Article continues below advertisement
"I was thinking I won't get to snowboard this season, and now I gotta fight the weight thing again, the indigestion and the feet hurting," she said.
But Mark, 30, who's the lead singer of Course of Nature, made things a lot easier for Melissa.
"When it comes to the baby, he does everything from the cooking to bath time, to putting Mason down for nap," . "That is so priceless to me."