BABIES
Melissa Joan Hart's Baby Plans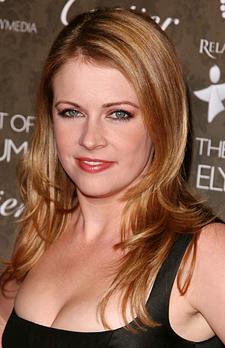 We wish Melissa Joan Hart had been our mom! The mother of two tells OK! that not only do her kids get to celebrate birthdays at Disneyland, they get to sleep on Disney characters!
"He's at the Disneyland Hotel," she told OK! at the Art of Elysium 2nd Annual Black Tie Charity Gala on Jan. 10 at the Vibiana in L.A. when asked about 3-year-old Mason. "Actually, he's sleeping on Dumbo right now! We always do birthdays at Disney and Brady is about to be ten months."
Article continues below advertisement
With two boys ruling the roost, Melissa says things can get a bit hectic, especially now that Brady's finding his sea legs.
"It's getting to be a little bit crazy around the house. They're definitely fighting over toys and Brady's starting to walk which Mason doesn't like," she tells OK!. "He's wanting to knock him down all the time. But it's very exciting and very fun. They're both sweet and wonderful."
So will those two rambunctious boys be getting another playmate anytime soon?
"Not now!" Melissa laughs. "At least I hope not! But probably in a few years. Four years or so. That's my goal."