BABIES
Mercy's Father Against Madonna's Adoption Bid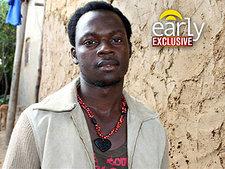 The latest wrench in Madonna's plan to adopt a second child from the African nation of Malawi isn't the bureaucratic red tape, but a man believed to be the father of the little girl she wishes to bring into her family.
"I want to take care of her," says James Kambewa in an interview on CBS' Early Show. "I'm capable to take care of my baby."
According to James, the issue isn't just a matter of paternity for 4-year-old Chifundo "Mercy" James. "Mercy, she is a Malawian," he explains. "I need her to grow as a Malawian, as well with our culture."
Article continues below advertisement
As he speaks to the camera outside the court house, James wears a heart-shaped necklace he made with Mercy's name, and says he's never met his daughter, and that he's only seen her "in newspapers and TV, not face-to-face." He adds that he misses Mercy's mother, his girlfriend when Mercy was born, "a lot."
James says he was too poor to marry Mercy's mother, and he had to move hundreds of miles away six months after she became pregnant.
Speaking through a translator, he told the show, "The letter said my girlfriend and my daughter have passed away during childbirth. This was the toughest point in my life."
But Mercy lived, and was taken care of by her grandmother until being given over to the orphanage. James claims he found out just a month ago that she was alive, when reporters covering Madonna's adoption case found him.
James isn't the only member of Mercy's family speaking out. Lucy Chekechiwa, Mercy's maternal grandmother, says she feels bullied into the adoption. "I did not want my granddaughter to be adopted," she tells The Early Show. "But because they have been persistent enough, I have been forced to let my granddaughter go."
Article continues below advertisement
Madonna spokesperson Liz Rosenberg gave The Early Show a statement saying, "There is no evidence whatsoever that this man is the father of Mercy who has been in an orphanage since birth. ... This is a story created by the media that has no influence on the ultimate ruling regarding Madonna's appeal for custody. No family member has ever come forward to claim this child. And now some man appears out of a clear blue sky claiming to be the father."
The first part of the three-part interview aired this morning. Lovemore Munlo, the Malawian Chief Justice was scheduled to hear Madonna's case, but it has been moved until 1 p.m. local time because John Gulumba, a lawyer appointed by Eye of the Child – the organization that is against the adoption – filed his court papers late.