BABIES
Michael Lohan: I'm Glad Lindsay's Home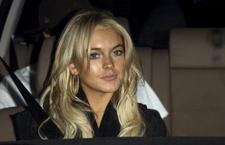 There's one thing Michael Lohan is thankful for this Thanksgiving — his daughter Lindsay's health.
"She is doing well," he tells Extra at the New York City Rescue Mission. "And when it's time for her to speak, I'm sure she'll have a lot to say. She's walking the walk."
Lindsay has returned home to New York for the holidays, but Michael won't reveal the family's Turkey Day plans. "What happens between my family and I, I really want to keep to myself because that would kind of betray the trust I have with them. Personal things are best kept personally."
Article continues below advertisement
If he indeed does spend the weekend with his 21-year-old daughter, it will be a drastic change from where Michael, who plans on opening a restaurant in California, was last year at this time when he was doing time for assault.
"Last year, I was sitting on a steel bench on a steel table with a steel tray eating a turkey dinner in prison," he says. "This year, I am blessed to be out here doing good things, surrounded by the right people, places and things. I'm glad Lindsay's back here in New York with her family and she has her mom and dad who both support her."
As for his estranged wife, who is reported to be filming a reality show about their family, Michael wishes her the best.
"If Dina has any kind of a show, as long as it has a positive message, I wish her well. If it's a good thing, good for her."