BABIES
Michelle Williams: Home at Last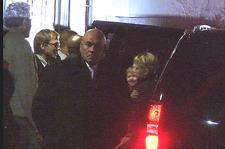 Michelle Williams, Heath Ledger's former girlfriend, has just arrived at her home in Brooklyn, N.Y., with their daughter, Matilda Rose. The actress pulled up in a black Ford SUV which pulled straight into a three car garage on Hoyt Street.
An eyewitness describes Michelle as looking "visibly shaken" as she got out of the car carrying Matilda at 8:05 p.m. ET. The actress was immediately covered up by a friend and taken into the house. She did not speak to any reporters.
Article continues below advertisement
Williams arrived at Newark International Airport in New Jersey shortly after 7 p.m. ET.
She was spotted Wednesday morning trying to catch a flight to New York after learning of the 28-year-old actor's untimely death.
Currently filming Mammoth, Michelle was on location in Sweden when she got word of night in her hotel, a spokesperson for the film's production company confirms.
On Wednesday, the 27-year-old actress boarded a plane at Landvetter Airport with her 2-year-old daughter Matilda in tow to return to the Brooklyn home she and Heath once shared in the borough's Boerum Hill neighborhood. OK! has learned they are expected to land around 6 p.m.
Outside the house, grieving fans have been leaving flowers on her doorstep all day while her mother and her good friend Busy Phillips, Matilda's godmother, .