BABIES
Michelle Williams Opens Up About Heath's Death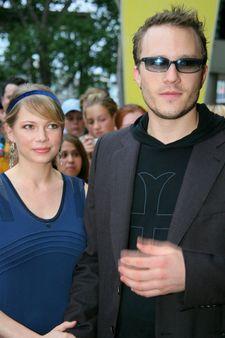 Since untimely death the people who knew and loved him the most have chosen to remain quiet, content to mourn the Oscar nominee's passing in private — until now.
For the first time, the people who knew Ledger are speaking candidly to Interview magazine about the man they admired and loved — two of those people being Ledger's ex-girlfriends, and Naomi Watts.
In the new issue of Interview, Michelle reveals:
Article continues below advertisement
"I think the interesting thing about Heath, which maybe people have only really fully discovered in his death, is how vulnerable he was. You can pick up on it in his performances, but it's easy to overlook because he was so physical and beautiful and strong and masculine. But there was always that underlying sensitivity. That's who he was. He had a talent for everything that he put his mind to. He didn't know limits."
The actress also addresses Heath's now well-known insomnia issues.
"He had uncontrollable energy. He buzzed. He would jump out of bed. For as long as I'd known him, he'd had bouts with insomnia," the actress reveals. "He had too much energy. His mind was turning, turning, turning — always turning."
Michelle, who is mother to Heath's 2-year-old daughter, Matilda Rose, recalls how much the actor loved his family. "The first six weeks of our daughter Matilda's life was this incredibly insular, protected time," she says. "It was just he and I and her living in our new house in Brooklyn. We were really committed to forming a bond, just the three of us."
Article continues below advertisement
Heath's other former girlfriend and fellow Australian, Naomi Watts, tells the magazine: "I think he wanted to be someone who was doing the observing — not the one being observed. He hated not being able to go about his life in an ordinary way. But I think that, deep down, he enjoyed that he was being recognized for his talent. I think he was just starting to own that and that's the deepest tragedy, in terms of his work. He was just beginning to own it and embrace it."
Oscar-winner recalls the dicipline and committment the actor had for his work. "In the time we spent together, we spoke a bit about family, about travels, but most of all about film," Penn says. "His talent does speak volumes of the kind of man, the loving father and, in fact, the brilliant and gifted guy I really missed out on — that we all did in the long run. Heath could have been a giant."
Interview magazine hits stands March 18.