BABIES
Milla Jovovich: Bye Bye, Baby Weight!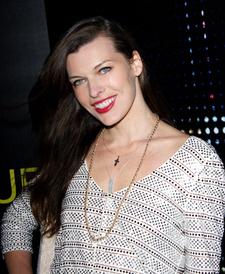 Unlike some super slim stars, Milla Jovovich admits that she's had to put in a lot of effort to regain her model body after giving birth to a baby girl in November 2007. The Ukrainian-born stunner put on 70 pounds during her pregnancy and shed the baby weight the right way.
"Diet and lots of exercise, I worked my big, little butt off," she told Pop Tarts recently at Montblanc Signature for Good Gala at Hollywood's Paramount Studios. "It's been a lot of work and I've been working with Harley Pasternak and his 5-Factor program, they actually have diet food sent to my house. At one point I just ate oatmeal, salmon and artichokes everyday for a week. It was definitely a lot easier putting it on!"
Article continues below advertisement
And although Milla admits she's not done making babies, she's not ready to pack on the pounds again just yet.
"I do want another baby but not for a little bit," she says. "I've only just lost all the weight so I want to enjoy my old body for a while before I have to become a crazy alien again."