BABIES
MJ's Mom Files Guardianship Papers for Kids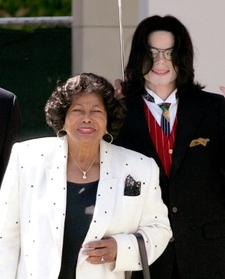 UPDATE: Katherine Jackson, Michael Jackson's mother, has been granted temporary guardianship of Michael's three kids, TMZ is reporting. A hearing is set for next Monday.
____________________________
While it had been assumed that Katherine Jackson, mother of the late Michael Jackson, would have custody of his three kids Michael Jackson, Jr., Paris Michael Katherine Jackson and Prince Michael II (aka Blanket), it's now official: TMZ reports that the childrens' grandmother has filed a guardianship petition.
Article continues below advertisement
Katherine has asked that the court appoint her the guardian for all three of the kids. The two eldest are from Michael's marriage to Debbie Rowe, and Prince Michael II is from a surrogate.
The petition states the two oldest kids have "no relationship with their biological mother." The children are already in the care of Katherine, says the file: "Minor children are currently residing with paternal grandmother. They have a long-established relationship with paternal grandmother and are comfortable in her care."
Debbie Rowe is listed as mother of Michael Jr. and Paris, and for Prince Michael II, the box for "mother" has "none" written in. The document states that it is "not known at this time" whether Rowe thinks Katherine should be the legal guardian.
A hearing is now set for August 3 to hear the petition.