BABIES
Mommas Love Obama!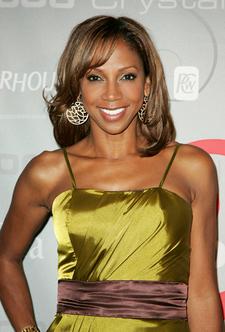 Nobody could deny that Barack Obama's victory was a incredible moment in history. But it will have had a special meaning for many African Americans, and for many mothers whose babies will be the first to grow up in an age when a black person can be president of the United States.
After the results were announced last night momlogic.com, a Web site for parents, spoke to some African American celebrity moms who can't wait for the new administration to get the keys to the White House.
Article continues below advertisement
21 Jump Street star and mom of four, Holly Robinson Peete, told the site,"Tonight America grew up enough to kick the race obstacle out of our way to progress.
"I so wish Martin Luther King, Rosa Parks, Harriet Tubman, Barack's grandma, my Aunt Sheila, my dad and so many others could be here to witness this transformation towards a more perfect union," she said.
Another Hollywood mom, Garcelle Beauvais-Nilon, says the result has filled her with life already. "I woke up this morning with an electric energy going through me," the NYPD Blue star told the site, "I can't explain this feeling except to say I knew something special was about to happen. I knew history would be made today."
Lisa Nichols, teacher of self-help phenomenon, The Secret and mom of one, said, "Tonight I asked my thirteen year-old son, Jelani, what did Barack Obama's win mean to him and he responded, "Mom, you've always told me that I can be anything, but now I have real evidence in Barack Obama."
Meanwhile, TV host and wife of Oscar-winner Forest Whitaker, Keisha Whitaker, said: "If I could put a label on this occasion, it would be: 'Life is endless possibilities!'"