BABIES
A Mommy Daughter Day Out!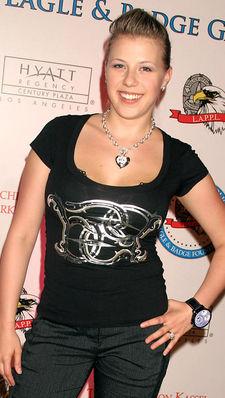 So this weekend, Zoie and Mommy had a day out together!
We went to a baby shower in L.A. hosted by Karina Smirnoff from Dancing With the Stars. It was a really beautiful day and Zoie looked absolutely adorable! I'm an idiot though and forgot the camera at home. I always seem to do that.
But the most fun was the "onesie" decorating contest they had. We used Zoie as our model for our group, but once we got it on and painted a super cute yellow "bikini" onto it, we realized we didn't think of how to get it off of her!
Article continues below advertisement
So she strutted down the catwalk (ok, so I really just held her up and touched her feet to the ground) then we rolled the onesie off of her. After that, she was not particularly happy and it was our cue to leave!
Then Cody and I dropped her off at a friends for babysitting and headed over to another event supporting the L.A. Police Protective League. By the end of the night though, we were exhausted!
I saw a picture from the event though and I looked skinny! Yay!
I've been working my butt off (literally) the past week and haven't missed a day of exercise. I have two more weeks before the movie starts and want to be in great shape.
I also finally ended my rebellion against MySpace and set up an official page. I realized there were so many people on there claiming to be me, that I should ACTUALLY have one. So, I'm trying to figure out how it works still. But I think I have the 'add friends' thing down! Now, I just need to add a little more of the creative page stuff. It should be fun!