BABIES
New Mom Ana Ortiz Prepped to Get Back to Work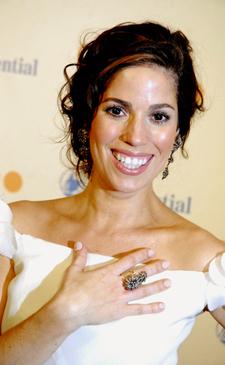 Congratulations to Ugly Betty star Ana Ortiz and husband, musician Noah Lebenzon, on the birth of their daughter, Paloma Louise Lebenzon!
The 7 lbs., 10 oz. girl was born in NYC on Saturday. This is the couple's first child.
Ana recently spoke to OK! at an event for Product-n-Press Live and said that her first bit of business after giving birth was going to be introducing her to the family pets. "I have to get the dog and the baby to know one another so that will be interesting," she explained.
Article continues below advertisement
The 38-year-old star also revealed some information about Paloma's room. "The nursery is beautiful and it's all eco-friendly," explains Ana. "It was designed by a woman named Amanda Moore and she did an amazing job. It's like this light blue wall and the accent colors are golden and orange and wood. It's just fantastic."
Even though Ana only has a few weeks before she has to get back to work on Ugly Betty, she told OK! that she's not worried about being overwhelmed.
"I'm excited. I've gotten so much support from the cast and so much support from the producers and my mother's going to come with me to set and help out," she explains. "I couldn't ask for a better husband, he's willing to do whatever needs to be done. Everyone's so excited to have the baby on set that if I even see the baby while I'm working I'll be surprised."
In fact, the crew has already set up an on-set nursery for the baby girl in Ana's dressing room. "There's a basinet in there and a rocker. It's hooked up. I'm so lucky!"