BABIES
Nicolas Cage Races Home for the Holidays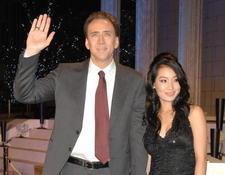 Actor Nicolas Cage is racing home today to be with his 2-year-old son, Kal-El, and wife Alice Kim.
"They're out there in England now, waiting for me to get home," the 43-year-old star told OK! at the NYC premiere of his new movie National Treasure 2: Book of Secrets held Dec. 13. "As soon as I'm done here tomorrow, I'm going back there to have my holiday."
According to co-star Billy Unger, 12, Nic is kid-friendly. "He's playful," he tells OK! "We had lunch at Universal, and he agreed with me that the cheeseburgers were good."
Article continues below advertisement
"He's just the best with his kid," co-star Diane Kruger says. "He's the cutest. I don't know if you've seen him, but he's the cutest little boy."
Although Nic didn't answer whether more kids were on the schedule in 2008, co-star Justin Bartha says the couple is solid.
"They're in love," he tells OK!
By Valerie Nome