BABIES
Nicole: Joel Is an "Amazing" Father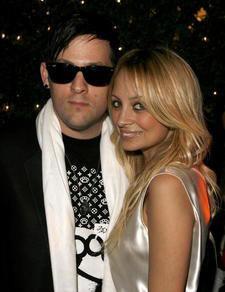 Harlow Madden is a lucky girl! She doesn't only have one mom – but 10!
The first of her group of friends to have a baby, Nicole Richie says that her close buddies have been treating her 3-month-old daughter as if she were their own.
"I feel like my group of five to ten friends, they really love her, like she's theirs," she tells Extra at her Harper's Bazaar shoot. "My friends never go outside for smoke breaks anymore. They don't curse; they are definitely more demure. It's actually been really interesting."
Article continues below advertisement
Nicole, who says that her whole life revolves around Harlow, also loves the way Joel Madden acts around their baby girl. Admitting that her 29-year-old fiancé changes more diapers than she does because "it's his time with her," the socialite says daddy's quite the entertainer too.
"He sings to her. He laughs with her, plays with her," she says. "It's amazing."
So far, the family of three has been living in relative peace and harmony since Harlow's Jan. 11 birth, and Nicole, 26, is hoping it will stay that way.
"The paparazzi is scary. I don't want that around her, I just don't," she says. "It's definitely the thing that makes me most nervous."
For more on Nicole, tune in to Extra on Thursday!