BABIES
Octo-gran: 'Docs should've stopped my girl having babies'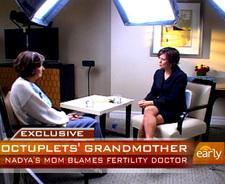 The mother of "Octo-mom" says that her doctor should have stopped her from having so many babies.
Angela Suleman says her daughter, Nadya, wanted the pregnancies because of a mental disorder -- so she argues it was irresponsible to give her fertility treatment.
Talking exclusively to the Early Show this morning, Angela told Maggie Rodriquez that she had pleaded with her daughter to stop having more kids.
Article continues below advertisement
But she realized that single mom Nadya -- who has six children and is pregnant with eight more -- had become "obsessive compulsive" about it and was no longer in control.
So she switched her attention to the doctor, pleading with him to stop helping her fertilize eggs with donor sperm.
"As far as I'm concerned, he shouldn't have done it because he's a doctor. When he's asked to do something, I guess he doesn't refuse," she complained.
"Maybe there should be a law to forbid a doctor to do this," added Angela.
But loving mother and grandmother Angela promised that she would help her family -- all of whom live with her -- for as long as she could.
Tomorrow on the show Angela Suleman will tell Maggie what she knows about the sperm donor, and she talk about her daughter's plastic surgery.
See below for the full interview: