BABIES
Octomom Fires Back at Critics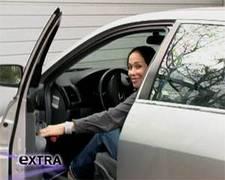 Notorious Octomom, Nadya Suleman, may not have landed an interview on Oprah, but she's appearing in a four-part interview beginning tonight on Entertainment Tonight and The Insider, facing off with her mother, Angela, and firing back at critics who have called her everything from selfish to mentally unstable.
"Am I emotionally unstable? No," Suleman says. "If I were, I'd just be completely on the floor overwhelmed, and crazy is a very loaded term. I did nothing wrong. All I do is live for my kids. I'm in my own bubble world."
Article continues below advertisement
Nadya's mother, who up to now has been helping to take care of the six children her daughter already has, says she thinks Nadya behaved selfishly when she decided to implant multiple embryos in her womb.
"Yes," she confirms,"And it may be true, but it's done now and the babies are in this world and we'll just have to cope."
Some critics have said that Nadya's newborn octuplets should be taken out of her custody, something she finds horrific. "How do they substantiate that?" she asks. "What facts do they have? Do they know me? They don't know me."
If she were to lose custody of her children, Suleman says she would "get an amazing attorney and sue them. Sue them for their motives, wrongful motives. I didn't intend on eight babies growing. I'm going to reiterate one more time, I had them there already. They were frozen embryos. Those are lives and I certainly didn't want to destroy them. A lot of these experts and fertility specialists who say you shouldn't put in more than two, they're not taking in my past reproductive history. The only thing that was effective to increase the probabilty of success was to transfer at least five. I used up what I had available and this is what happened."
Article continues below advertisement
When it comes to the media attention surrounding the birth of her octuplets, Nadya says, "It's ridiculous! I don't want this kind of attention. I want the babies to be completely safe, protected and live a private normal life like I had."
And as for reports that she's moving into a new house, Suleman confirms, "We're planning to rent a house so we won't have to go to the old one that really needs to be fixed up. It's not safe for the babies, it's kind of dilapidated."
Angela adds, "We hope that when she moves that no one knows where she's moving. That will be safe for her. Safe for the kids—that's a priority."
Says Nadya, "I want them to be in a gated community, protected and safe. There are a lot of emotionally disturbed people in the world."
Uh huh.