BABIES
Octomom Looking for New Crib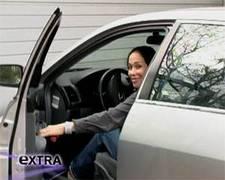 Octomom, Nadya Suleman, has herself a new spokesperson, and on Wednesday, OK! was there when her new mouthpiece held an impromptu press conference in the driveway of her mother's Whittier, California home.
The lawn strewn with toys and bikes, Nadya's spokesman, who would only go by "Victor," all but confirmed reports that she and her mother will most likely lose their house due to unpaid mortgage bills. Suleman's mother owes approximately $23,225 in back payments.
Article continues below advertisement
Victor tells OK! exclusively that "our main concern is to get Nadya and the family moved into a new home and get some peace and quiet. There are eight babies coming home soon." OK! has learned that the family has enlisted the help of a realtor friend who is helping to get all of them moved into a new house very soon.
Meanwhile, Victor also confided exclusively to OK! that Nadya "can't stand" being compared to Angelina Jolie, and is horrified by tabloid reports that say she purposely tries to look like the Changeling star.
Nadya herself told Extra on Wednesday when asked about the state of her current living situation, "It's not my home. I got to move...Yeah, I need a new house."