BABIES
Octomom Says the 8 Are Great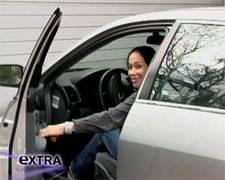 Despite reports that "Octomom" Nadya Suleman has been receiving death threats against her and her kids, the mother of eight newborns says everything is fine.
"I'm really good. They're really good," she tells Extra on the way to visit her babies at the hospital.
Police said yesterday they will be investigating the death threats, perhaps prompted by reports that the single mom is looking for financial help to raise her total of 14 children.
Article continues below advertisement
Police Lt. John Romero told the Associated Press yesterday that cops were to meet with Nadya's publicist to help him address the flood of angry phone calls and e-mail messages against the family.
"We are aware of the media accounts of the threats, and that they are being sent to the West Los Angeles detectives for appropriate action," Romero said.