BABIES
OK! Cover Story: Britney's Back!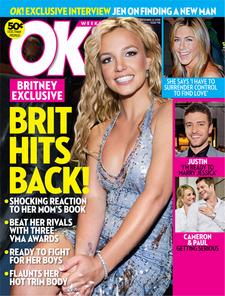 On Sept. 7, Britney Spears faced the world from the stage at MTV's 2008 VMA awards, clear-eyed, fit and confident, one year after her disastrous performance at the 2007 awards show.
After beating out fierce competitors in all three of the categories she was nominated in (Best Female Video, Best Pop Video and Video of the Year) Britney not only captured her Moonmen, she proved to the world that she's back.
Article continues below advertisement
But winning the acceptance and applause of her peers is only one of the battles Britney is waging.
Her next album, which OK! can exclusively reveal will be released by late December, has to be a monster hit to sustain her comeback, and all signs indicate that it will deliver.
"It's my best work ever," Britney proudly told OK!.
Even more important in Britney's battle is her effort to win joint custody of her sons, Preston and Jayden, from her ex-husband Kevin Federline.
"Her goal is to regain joint custody of her sons as soon as her dad Jamie's status as her conservator ends," a Spears insider tells OK!.
But before then, Britney has some other planning to do — party planning that is! As the proud mom told OK! during our exclusive interview, she is organizing a joint affair for her sons to celebrate Jayden's second birthday on Sept. 12 and Preston's third birthday on Sept. 14, with the help of her father.
Article continues below advertisement
"I want to have a traditional party," she told OK!. "I have some friends with kids who I am going to invite."
Her mom, Lynne Spears, has also been making headlines with her new book titled Through the Storm: A Real Story of Fame and Family in a Tabloid World. Although gossip blogs buzzed over supposed scandalous details in the memoir, the book is more about Lynne's experience as a mother through Britney's tough times, as the Associated Press reported.
"Regardless of what people might think, Britney isn't upset about the book," an insider tells OK!. "After a tough last year, Brit and Lynne have a wonderful relationship again."
For more on Britney's fight to get her career back on track, her life with her sons and family and her upcoming album, check out the new issue of OK! on sale Thursday.