BABIES
OK! Exclusive: Brit Due Back in Court Next Week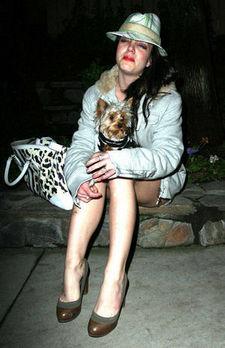 OK! has confirmed with sources close to the Britney Spears child custody case that the pop star is due back in court next week, where she's expected to ask the court to allow her some very limited visitation privileges to her sons Sean Preston, 2, and 1-year-old Jayden James.
The court date of Feb. 4 had originally been set when Britney's lawyers at the firm of Trope & Trope asked to be removed from the case. And even though that request was withdrawn last week, the court has some unfinished business to attend to, including Brit's continuing struggle to see her children again. The insider tells OK! that the singer will ask the court for monitored, therapeutic visitations, meaning that a court-approved monitor will be on hand the entire time of the visit. Earlier this week, Britney was granted permission by the court to speak to her boys over the telephone.
Article continues below advertisement
Last week, Britney had been expected to appear before the judge to ask for some of her visitation rights back, but the troubled singer never made it past the court's metal detector. This time, she's going to need to do better. "The only way she's going to see her kids anytime soon is if she stands right in front of that judge and proves that she's not as crazy as she's been made out to be," one source familiar with the case explains to OK!. "Perhaps that would explain her with her mother."
Also on the docket for next Monday are some more technical legal matters. First, Trope & Trope's motion to withdraw from the case will need to be officially redacted from the record. Then there will be motions from Trope to quash subpoenas for testimony from doctors and others at Cedars-Sinai Medical Center, where Brit was taken following the Jan. 4 standoff.