BABIES
OK! Exclusive: Brit's Wild Night Out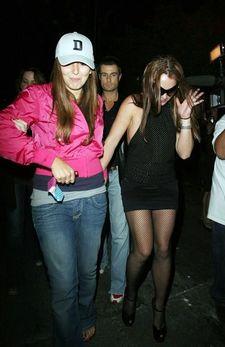 Wearing only a skimpy pink and black pirate-meets-French maid costume, Britney Spears staggered into the Hollywood hotspot Winston's Monday night with her cousin/gal pal Alli Sims and a slew of female friends — and OK! was there as they settled into the very back corner booth near the DJ, slurping on Grey Goose vodka and mixers throughout the night.
According to an OK! spy, Brit spent a good portion of her evening in the ladies room, accompanied by Alli at all times. "I was in the restroom at the same time as Britney and Alli, who made sure Brit was always aware of the location of an available stall," the witness tells OK!. "At one point, Brit even asked me which way the stall was because she 'really had to go!' She asked: 'Is the stall this way or that way'' gesturing toward one of the stalls and toward the exit back out into the club. I pointed her in the right direction. Britney took care of business without ever letting go of her red lollipop."
Article continues below advertisement
When Britney was not spending time in the ladies room, she stayed at her booth and danced atop the table while sucking on still more red lollipops. The crowd went wild for the entire duration of her stay and she was clearly enjoying every bit of attention, meanwhile becoming more and more out of it throughout the night. Her very own "Gimme More" came on and everyone began to cheer, while Alli shouted to Brit, "C'mon, girl! Get up and dance!" Brit proceeded to jump up on the table and dance and, midsong, threw her hands up and jumped into the crowd, dirty-dancing with several male fans.
As the evening came to a close, at about 1:30 a.m., Britney headed into the ladies room — again — and was spotted chatting with a brunette female bartender. "While waiting for a stall to open up, Britney turned to the bartender, who was wearing a low-cut black dress, and said, 'You have nice t*ts! Mine are all saggy!' " an eyewitness tells OK!. The bartender, somewhat dumbstruck by the comment, replied, 'Thank you?!!" Brit then asked the girl, "Do you wanna change? I wanna switch outfits!! Let's switch!!'"
Article continues below advertisement
"At this point, the bartender felt that she had no choice but to comply," the eyewitness says. "The ladies proceeded to switch outfits and Britney happily walked back to her booth in the bartender's duds. The bartender, clearly taken aback, but with a great attitude, went back behind the bar and continued serving drinks in Spears' French maid outfit, telling patrons, 'I'm wearing Britney's costume, including her bra! She made me take her bra!' "
Brit left Winston's, still wearing the bartender's clothes. A memorable night by Britney Spears' standards.
By Elizabeth Rosselle