BABIES
OK! Exclusive: The Final Straw for Britney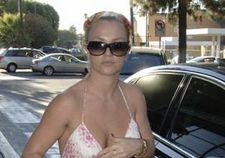 Access Hollywood and Celebrity Exposé host Tony Potts talked to OK! about the twists and turns in the Britney Spears/Kevin Federline custody war.
"I'm not surprised at all that she lost her kids based on the way she has behaved since the first order came down," Tony, who has followed Brit closely over the years, explains to OK!. "She was out at a club that night, and last Thursday or Friday she was out in Newport Beach."
Article continues below advertisement
And as for Brit's bizarre behavior, Tony has a theory. "Drugs will do it to anybody. If you give me a drug, in an hour I won't be the same person."
And while the Hollywood insider is convinced that Brit's career isn't completely done and gone, he does warn that "there is a fatigue factor with the public." I think people are pulling for her because of the kids. They hope for her well-being, and in the music industry, if you have a great song, you can come back."
But he feels all is not lost for the pop star, as long as she's willing to get herself together. "Well, I hope that losing your kids is the final straw and that she gets some help, but nothing with her is ever predictable."
"If people around her are suddenly worried, they're idiots," he added, "They should have been worried for months and months and months. My hope is that this is a wake-up call and she powwows and brings her mom back and goes into rehab like Lindsay did."
Next week on Tony's new MyNetworkTV show, Celebrity Exposé (Mondays, 8 p.m. ET), he dedicates the entire show to the wild ride of Britney's life and career.
For a sneak peek,
By Jocelyn Vena