BABIES
OK! Exclusive: Gloria Allred Rips Octomom Reality Show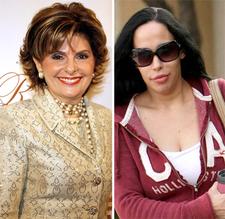 The Internet is abuzz with reports that Nadya "Octomom" Suleman has made a deal to star—along with her eight newborns and six other young kids, of course—in a reality show. OK! reached out to attorney Gloria Allred, who previously arranged for free in-home nursing care for Suleman only to have her offer rebuffed days later, to get her take on the news.
Speaking exclusively to OK!, Gloria said that when Angels in Waiting USA—the nursing organization she'd worked with to help Suleman—had visited the Octomom's house, "it appeared to the nurses and myself that Nadya treated her babies as props and as part of a television set for those who were filming her."
Article continues below advertisement
According to Gloria, there are two very different Octomoms. "When the cameras were not rolling she was absent from the babies and the nurses for significant blocks of time and never volunteered to feed the babies herself," recalls the outspoken lawyer.
"She also asked AIW many times if they would agree that she could have a reality show. AIW is on record that they would not allow it because of the risk of infection from the presence of dirty cameras, audio equipment and electrical cords — and the concern for the emotional well-being of all of her children.
"Nadya now appears to be putting her money-making scheme of a reality show before, in my opinion, the best interests of her children. If she goes ahead with it she needs to spend less time looking for a man and more time mothering her 14 children."
Not surprisingly, Gloria believes that Nadya's motives are off the mark. "If she is looking for men, she is looking for love in all the wrong places. Rather than doing a reality show, she needs to deal with the reality that she has 14 children (a number with special needs) who need her to be there with them to love them and be a real mother to them. That is the reality that she needs to face.
"Her children need a mother who will protect them and their privacy, not a mother who appears ready to auction off their privacy to the highest bidder."
By Patricia Ramos