BABIES
OK! Exclusive: Inside Suri's Tea Party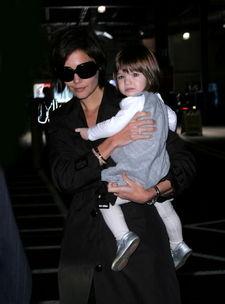 While last Sunday was a rare moment for Katie Holmes, who managed a mammoth personal victory when she finished the NYC Marathon, to shine without having to share the spotlight with hubby Tom Cruise, the day before was all about that other special woman in Tom's life: little baby Suri.
That afternoon the littlest Cruise was the guest of honor at a tea party at Bemelmans Bar in Manhattan's swanky Carlyle hotel, where the family called home during their extended Big Apple stopover. The theme of this tea party? Madeline, the classic children's book character, which makes all the more sense as Bemelmans Bar is named after Ludwig Bemelmans, creator of the beloved series of books.
Article continues below advertisement
"Katie held Suri and fed her chocolate cake and ice cream," a source tells OK!. "Suri wore an adorable white dress, with a black turtleneck, black tights and silver shoes. She danced a little, and Katie let her roam around the room."
Tom let Katie and Suri have their mother-daughter time and talked to other gentlemen at the tea party. But before the upscale affair ended, he came over to sing along with all the little girls. "They were doing an 'ABCs 123s' song — it was really cute," says the source.
For all the details of TomKat's marathon weekend, pick up the next issue of OK! — on sale everywhere Thursday.