BABIES
OK! Exclusive: Maddox's Letter to Santa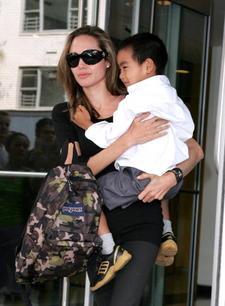 There will be some special deliveries to the Jolie-Pitt children this Christmas — from none other than Santa himself. OK! has learned that Maddox, the eldest J-P child, has penned a letter to St. Nick on behalf of his younger siblings, asking for the jolly ol' fella to fulfill the trio's wish list.
So what did the 6-year-old request Santa to bring?
For little bro Pax, 4, Mad asked for an Elf DVD and remote-controlled cars because "Pax loves cars," a source tells OK!. Eighteen-month-old Shiloh is getting a doll and a couple of books while Zahara, 2, will doll up herself with princess dresses and a crying doll.
MORE ON:
Zahara Jolie-Pitt
Article continues below advertisement
"Maddox doesn't know why Z would want her toy to cry," says the friend.
But don't think Maddox forgot about himself! The generous big bro added in a post-script that he'd be open to Santa showering him with a few toys as well, particularly a remote-controlled dinosaur.
"He asked Grandma Jane Pitt for one, but he isn't sure she's going to buy it."
For more on Maddox, check out the newest issue of OK!, on newwstands now!