BABIES
OK! Exclusive: Matt & Camila's Baby Name Revealed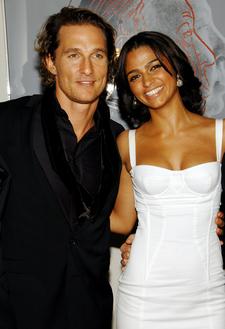 Now that superstar actor Matthew McConaughey and longtime girlfriend Camila Alves have welcomed their first child into the world, they are revealing exclusively to OK! their son's name — Levi Alves McConaughey.
Explaining how they came up with the name for their baby boy, Matthew tells OK!, "Levi was another name for the apostle Matthew in The Bible. They were, in fact, two names for the same person.
Article continues below advertisement
"Our son was born at 6:22 pm, and this particular time represents my favorite verse in the book of Matthew in The Bible: 'If thy eye be single, thy whole body will be full of light.'"
Baby Levi's middle name is taken directly from his mother Camila's last name. "We wanted to incorporate her family name," explains the proud new father.
To all the well-wishers and fans, Matthew and Camila have also released the following statement:
MORE ON:
Matthew McConaughey
"We welcome Levi Alves McConaughey into this wonderful life and look forward to living in it with him. In the mean time and all times, just keep livin'."
—Matthew David McConaughey and Camila Maria Saraiva de Araujo Alves