BABIES
OK! Exclusive: Octo-Granny Says Babies Are Staying Put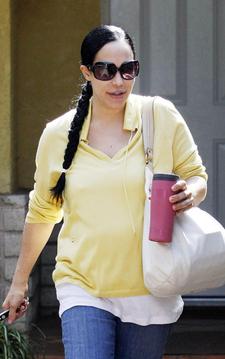 Amid a whirlwind of rumors that the Octomom, aka Nadya Suleman, is preparing to give up custody of her octuplets, OK! has an exclusive interview with Nadya's mother, "Octo-Granny" Angela Suleman, who reveals what the family's plans are for the octuplets.
When asked if Nadya is giving up her controversial brood, Angela tells OK!, "Heck no! My daughter is not giving up the babies! Even if she couldn't care for them — which she can — I would care for them. We would never give up custody to anyone."
Article continues below advertisement
Angela also vented to OK! about her daughter's most recent publicist, "Victor" — who, incidentally, is the second spokesperson to quit and who openly described Nadya as "nuts."
"He's a liar," she tells OK! exclusively. "He was never telling the truth. He didn't have authorization to say half the things he said. Good riddance to him."
And Angela adds that she and her daughter have everything under control: "Besides, between the two of us, we've got it all worked out."
What Angela and Nadya most likely have worked out is a deal to accept in-home care from the non-profit agency Angels in Waiting. On Monday, it was announced that Nadya will appear on The Dr. Phil Show, airing March 10 and March 11, where she will accept the offer.
According to Linda Conforti West, CEO and founder of Angels in Waiting, the agency initially will be providing around-the-clock neonatal intensive care nurses who specialize in premature infants. Psychological and physical early therapies will also be provided to Suleman's six older children.
Article continues below advertisement
"From the beginning, my interest in this story has been guided by my concern for these children," said Dr. Phil. "Nadya realized that she had to make every effort to care for the octuplets as well as the six children at home in a way that proved that she understood the enormity and complexity of the task ahead."
Angels in Waiting is a non-profit charitable organization. According to Suleman's attorney, Gloria Allred, it will allow Suleman to keep her family together without the use of taxpayer money. The agency, however, is dependant on donations from the public and corporate sectors.
The services will start as soon as the octuplets are released from the hospital and will be reevaluated every six months.
Of the decision, Allred said, "I am delighted that Nadya understood that the offer from Angels in Waiting was made in the best interest of the children, and I am equally delighted that we could find a way to provide help and support so that she could remain in her own neighborhood."