BABIES
OK! EXCLUSIVE PICTURES: More Pics of Melissa Rycroft and Baby Ava!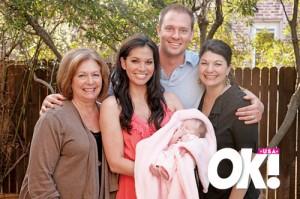 There's no denying that Melissa Rycroft and hubby Tye Strickland can make a precious baby! Baby Ava, who entered the world on Feb. 16, is absolutely adorable. Before all the happiness of birth, Melissa had to go through the delivery. Melissa tells OK! all the details of how it went!
"When I started to go into labor, I started panicking! Tye was saying, "We've got to go to the hospital," but I was terrified because I knew that was the confirmation that this was really it, and I wasn't ready yet." Melissa explains. "But it was a simple delivery, no complications, and the second that she was out and on my stomach, I couldn't even remember the pain!"
Article continues below advertisement
So who does Ava look more like? Melissa tells OK! "She's the spitting image of Tye! She has my lips, but everything else is Tye. I love seeing the two of them together. It confirms to me that he's definitely the person who was supposed to be the father of my child."
FOR MORE MELISSA, AVA AND TYE, PICK UP THE NEW ISSUE OF OK! — ON SALE EVERYWHERE NOW!