BABIES
OK! Exclusive: TomKat's Whirlwind Week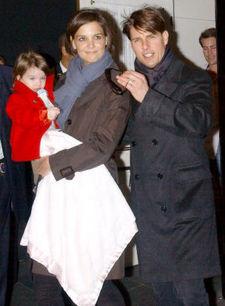 It's already been a busy autumn for the TomKat crew, with Tom Cruise wrapping up production on Valkyrie in Germany, Katie Holmes traveling to Manhattan with Suri for a photo shoot to promote her upcoming film Mad Money, and now a string of globe-hopping premieres for Tom's latest flick, the Robert Redford–directed Lions for Lambs.
The wildness began Tuesday night in Rome, where Tom celebrated the release of Lions for Lambs in the Italian capital city — without Katie. And while it's still two days before they do it all over again for the premiere in Paris, OK! has learned that Katie will be making a quick stopover in Berlin for yet another super-secret photoshoot.
Article continues below advertisement
The family will once again stroll the red carpet in Paris on Thursday before heading home (sort of) to Los Angeles for the Hollywood premiere of the film on Nov. 1. But instead of enjoying the luxurious comfort they're used to in the City of Angels, they'll be staying through the weekend at the Scientology Celebrity Center. Why? Because they're in-between houses at the moment and all of their belongings are stowed away in boxes.
But they won't be in L.A. for long, as they return to the Big Apple, where, sources tell OK!, Katie is set to take part in the annual NYC Marathon on Nov. 4.