BABIES
OK! Interview: Carnie Wilson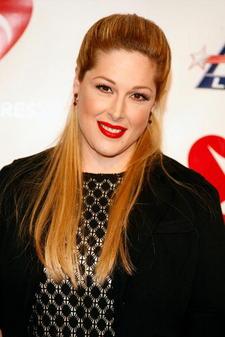 She shot to fame with one of the catchiest pop songs of the '90s, but come January, Carnie Wilson will be going country.
The singer, one-third of Wilson Phillips, will compete on CMT's new show Gone Country, premiering Jan. 25. With such celebs as Sisqo and Julio Iglesias, Jr., in the lineup, the show pits established music stars against each other in an effort to revamp one to be the next country star. And as a longtime country music fan, Carnie couldn't be more excited to release her inner cowgirl — even if she had no idea what she was getting herself into.
Article continues below advertisement
"I was contacted by Renegade 83 Productions and they had said that there was a really cool opportunity for me and it was weird because they had said it like that — that it was an opportunity," she tells OK!. "I was a little nervous because they didn't tell us anything. It was like, 'The only thing we can tell is that you're going be part of the cast and you're going to live together and it's going to be a country show.'"
Still, those slight nerves weren't enough to overtake her enthusiasm. After working in Nashville while recording her Christmas album, Christmas With Carnie, out now, Carnie saw that as an "omen" and signed up for the show, in which each star was paired with the top country songwriters to pen a tune. The 39-year-old worked with Marv Green and Leslie Satcher and calls their connection and songwriting process "automatic."
Article continues below advertisement
"I like the lyrics that country music has — they're so simple, but they really talk about how you feel," Carnie says. "I had to go into with a really, really open mind that I'm going to learn something from these guys. Just their personalities, they were just absolute dolls."
Describing the final product as a mix of the Dixie Chicks and Sheryl Crow, Carnie hints that the song could serve as a steppingstone to a full LP. "We'll have to see. That's a possibility. I would love it."
Had they tinkered with the guitar more, Wilson Phillips' "Release Me" could've very well been a country record, she says. The group, which includes Carnie's sister Wendy — with whom she had a mini-tour this year — and Chynna Phillips, may still get the chance to release one as they're in talks to reunite next year.
"We were talking about Vegas and some dates," she says. "I'm trying to get the three of us in my studio in my house to do some vocals. We have a ton of songs that we wrote right before our last reunion and wrote about 30 songs and I'm trying to get the studio and we have eight kids between us and it's a f***ing nightmare!"
Article continues below advertisement
If that doesn't come into fruition, Carnie always has TV to fall back on. Already a veteran of reality shows, having competed on Celebrity Fit Club, Carnie reveals there are more boob tube projects on the horizon, including VH1's magic show Celebracadabra and a top-secret one in development that has "been a dream of mine."
She cautions that reality shows aren't for everyone, but "is ideal for someone like me who is sort of wacky and it's a perfect platform for me to sort of show who I am which is hyper, silly and real and emotional."
On CFC last year, Carnie, who famously shed 150 lbs. through gastric bypass surgery in 1999, whittle 22 more pounds off her 5'3" frame. She has since put the weight back on.
"I'm so upset about it. But it's the real deal, that's where I'm at. I don't hide it. It's the truth. I'm definitely struggling. It's hard especially now during the holidays."
Although she has a trainer, with whom she meets with thrice weekly for two hours of resistance training and elliptical exercises, Carnie would like to push it up to four hours and is determined to get back into the groove of working out every day. And while she'd like to drop 25 lbs., the number is not the be all to end all.
Article continues below advertisement
"I'm not obsessing about the scale. I'm trying to get that desire for the great healthy living back. It's coming. But it's something that you have to want to do that's going to be permanent. Even with the gastric bypass, it's still a challenge."
Following her surgery, the author and former talk show host spiraled into alcoholism, consuming martinis into the double digits daily, she recently revealed. It wasn't until she and her husband, Rob Bonfiglio, whom she married in 2000, decided to get serious about starting a family that Carnie finally addressed her addiction.
"My spirituality is my 12-step recovery. It's my definite upkeep," she says. "It's really hard because I have this constant need to sort of medicate and you know I just want a buffer. And it's hard not to have vices."
A few weeks after she quit, Carnie discovered she was pregnant, which she calls "a blessing." Daughter Lola is now 2 ½ and seems primed to carry on the family business (Carnie's parents are the Beach Boys' Brian Wilson and The Honeys singer Marilyn Rovell).
Article continues below advertisement
"We were in Connecticut doing a concert, my sister and I, last week," she recalls. "Lola couldn't handle not being a part of the sound check and getting on the stage with the microphone. We had to get her a microphone that wasn't working so that she can prance along the stage. She's so funny."
The precocious youngster has already learned vibrato — adding Christina Aguilera-esque runs onto the end of "Jingle Bells" — and has penned two tunes. There's the self-explanatory "When I Get Big" and "When Kelsey Misses Me," about her friend Kelsey who, well, missed her when she went away.
So can a mother-daughter duet album be in the works?
"I totally think we should do that. I think she will wind up really singing by the time she's 4, judging by how she is already, that she's completely on key at 2 ½."
By that time, there may be another voice in the household — Carnie and Rob hope to expand their clan soon.
"I'm going to be 40 in April so I really better get going!" she laughs. "It's a big question mark right now and I really, really want her to have a sibling, so I would say there's a really good chance."
As for other hopes for 2008, Carnie just wants to rededicate herself to her body.
"This last year I really slacked off so the upcoming year I just want to drink more water and exercise more. It seems like everything kinda falls into place when I do that."
By Joyce Eng