BABIES
OK! Interview: Heath Ledger's Family "Struggle"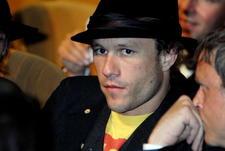 For an actor so well-known for his stoicism, it was a shock to see Heath Ledger with a trembling lip and tears forming in his eyes at the mention of the name of his ex-girlfriend, Michelle Williams. But that's exactly what happened to him when OK! caught up to the award-winning actor at a press conference for the upcoming film I'm Not There.
The 28-year-old actor, who recently split from girlfriend of three years, and mother of his 2-year-old daughter Matilda, tells OK! he was able to relate to legendary musician Bob Dylan, who he portrays in the film, and who has had his fair share of infamous familial problems in his long career.
Article continues below advertisement
"It's a fairly gypsy-esque lifestyle," Heath explains to OK! "I can relate to struggling with keeping consistency with family life, social life and your professional life. It's both an annoyance and an addiction."
So how did he get through his heartbreaking split? Perhaps he turned to music, which he says he uses to express anger and pain.
"It's always been a wonderful excuse or a door opener for me to be able to express myself, creatively and personally," he says.